KUALA TERENGGANU, Sept 27 (Bernama) -- All agencies as well as community members, need to be aware of the risk of a dam disaster to ensure the preparedness is always at an optimal level, especially with the onset of the northeast monsoon this November.
Deputy director-general (Operations Implementation Division) of the National Disaster Management Agency (NADMA), Meor Ismail Meor Akim said that although technology entailed assurance of no dam bursts, preparations to face any possibility must still be made.
ENSURING MALAYSIA'S DISASTER PREPAREDNESS

DISASTERS are a major threat that could cause serious disruptions to the functioning of a community and affects the well-being of the people.
Apart from that, disasters, which can be caused by natural, man-made and technological hazards, can impact the development of economic, social and physical elements of a nation.
The potential loss of life, injury or damaged assets and properties are inevitable in most disastrous incidents and calls for strategic action planning of the government of the respective country.
In Malaysia, the management of disaster risks are regulated by Directive No. 20, under the auspices of the National Disaster Management Agency (Nadma). Nadma was formed as a focal point agency dedicated to managing disasters, after the country faced its worst monsoon flood that affected several states in December 2014, which affected 541,896 people with estimated losses of RM2.6bil.
Nadma, which is under the Prime Minister's Department, was officially formed on Oct 1, 2015, taking over the responsibility from the National Security Council (NSC). It was established with the consolidation of the NSC's Disaster Management Division, Post Flood Recovery Unit of the Prime Minister's Department and the Special Malaysia Disaster Assistance and Rescue Team (SMART).
"Nadma as the secretariat of the Central Disaster Management Committee (JPBP) will plan its preparedness to face the northeast monsoon season each year," said Nadma director-general Datuk Dr Aminuddin Hassim.
"Understanding and cooperation between the agencies will be upgraded. The technical agencies such as MET Malaysia, the Department of Irrigation and Drainage (JPS) and the Public Works Department will share information relating to weather forecasts, the status of water levels for rivers and dams, as well as risky slopes, while the enforcement agencies will give reports on preparedness of assets, logistics and manpower strength," he said.
He shared that RM9.5mil from the National Disaster Relief Trust Fund has been allocated as part of preparedness for the operations of the 2021/2022 northeast monsoon season.
Of the figure, RM100,000 each was distributed to the respective agencies, such as the Armed Forces, police, Fire and Rescue Department, Health Ministry, Department of Social Welfare, Civil Defence Department (APM) and the People's Volunteer Corps; RM20,000 was given to each secretariat of the state disaster management committee (JPBN) in 14 states; as well as RM50,000 for each committee of district disaster management committee (JPBD).
"The Bantuan Wang Ihsan one-off cash aid for flood victims has been increased from RM500 to RM1,000, which is the first raise since it was introduced in 2016," he explained.
Taking proactive action
Aminuddin said that Nadma had also on Oct 5, 2021 arranged for a session with the Minister in the Prime Minister's department (special functions) who is responsible for the national disaster management together with all state secretaries, to highlight the need for the preparedness of all disaster management machinery at all levels to face the 2021/2022 northeast monsoon season.
"Nadma practices the whole-of-society approach and holds training as well as disaster management simulations involving response teams from various agencies, state governments, district offices and non-governmental organisations (NGOs)," he shared.
Aminuddin holding a press conference at the control post of the incident area of the Taman Seri Muda flood, Shah Alam, Selangor.
"Agencies under the JPBN or JPBD, especially in the states and districts which are prone to floods, will organise programmes and training to evaluate on their preparedness level in terms of emergency plans and the availability of assets owned by related agencies for easier coordination.
"Nadma will hold training and simulations together with the communities on the personal safety measures to be taken in case any disaster occurs in the area, to instill resilience values, " he said.
Among the awareness programmes held and are still ongoing include the Community Based Disaster Management programme (CBDM). This was based on the bottom-up approach that involves various parties, especially the local leadership and NGOs.
"This CBDM programme consists of forums and workshops, which will educate the participants on preparatory steps before a disaster strikes, response towards the warning given for the disaster threat issued by the responsible agency, personal safety steps taken before the rescue team arrives, the role taken in assisting the management at the relief centres and actions taken after the affected people are allowed to leave the relief centres.
"Last year, 8,500,645 participants consisting of community leaders, NGOs and students were involved in the community-based disaster reduction management programmes," he revealed, adding that 11,420 participants have taken part in such programmes up to March this year.
Citing an example on the operation preparedness, he said that as soon as MET Malaysia issued a warning on heavy rain (yellow warning), the order of activation of state and district Disaster Operations Control Centre (PKOB) will be issued by the National Disaster Control Centre to ensure smooth coordination of disaster operation response teams at all levels.
"The preparedness notice will also be sent to all agencies from time to time based on the latest warning alert issued by the MET Malaysia and JPS. The flood warning announcement will also be made through the media and short messaging system (SMS)," he said.
He explained that PKOB Central would also provide instructions to allow all state and district PKOB and responder agencies to take actions such as: upgrade the response in the rescue operations; identify and transfer victims from temporary relief centres (PPS) that were inundated; identify the areas that have the potential to be new PPS to replace inundated PPS; and ensure food and other necessities were channeled immediately to the flood victims at ad-hoc PPS.
On the role and responsibilities of Nadma during the disaster management period, he said that this includes disaster management that is divided to three levels – JPBP, JPBN and JPBD – to ensure that each related issue and crisis of the disaster is under the monitoring of the authorities.
On the disaster management level, he said that it would be divided to three – Level 1 (involve area/district), Level 2 (over one district in the same state) and Level 3 (over one state or complex).
"All will depend on the complexity, magnitude, destruction and damages, financial affordability, expertise and aid, as well as duration to act. The responsibility to coordinate all disaster management work movements at all states and districtts is activated through a disaster secretariat at the state and district level, which is APM.
"Nadma as the secretariat to the Central PKOB is responsible to supervise and help the state and district authorities to ensure that the management is organised, coordinated and go on smoothly," he said.
The infrastructure coordination with all agencies for the preparation of disaster such as PPS was also done to ensure it was managed properly.
Improvements needed
On challenges, he cited the recent experience in disaster management in Klang Valley in December 2021, which involved weakness in terms of understanding between the agencies at the central, state and district, as well as statutory bodies, private sector and NGOs relating to their responsibilities under the MKN Directive No. 20 before, during and after the disaster strikes.
"Close cooperation between various parties such as state government and local authorities is very important to ensure the effectiveness of the national disaster management to be at the optimum level.
"There is also weakness in the information management of disaster management, because national disaster management depends on the fast and accurate information from the field.
"Currently, the national disaster management still practices information collection in a conventional manner and not in accordance with the latest technological advancement. This situation has caused the report preparation process, analysis, decision-making and data management to have a significant weakness. The efforts to improve the disaster management approach as well as channeling fast and accurate information to the response agencies and flood victims still has to be improved.
"The coordination of aid by NGOs, private sector and individuals together with state and district PKOB should be enhanced to ensure that the aid could be delivered accordingly," he said.
On Nadma's standard operating procedures in disaster management that the people should understand, he said that the JPBP would be chaired by the Prime Minister, JPBN would be chaired by the state secretary, while the JPBD would be chaired by the district officer.
Among others, he said that the responsible agencies in the disaster management at the incident would be divided into rescue agency; as well as aid and recovery agencies.
This would also be divided to three local zones: Red Zone (special operations area for the rescue agencies with certain expertise; Yellow Zone (control post for the incident area and rescue agencies posts and any related government agencies with special expertise; Green Zone (to house aid and recovery agencies officers and voluntary bodies and media).
On how Nadma fends off criticisms of netizens saying that it failed to manage the recent flood incident, he said, "Information can be easily obtained from various social media, which is not all true. Nadma has to activate the government's official channel and the mainstream media (electronic and print) to disseminate correct information.
On the basic information that the people should know when facing a disaster, his advice was to always be aware of the current situation by following the development through the media for the weather forecast and tide, especially those who stay at flood-prone areas.
"Keep all important documents at a safe place. Always monitor your children's movement and ensure that they do not play near the flood, river, drain or mining areas. Always adhere to the safety instructions given by the authorities," he said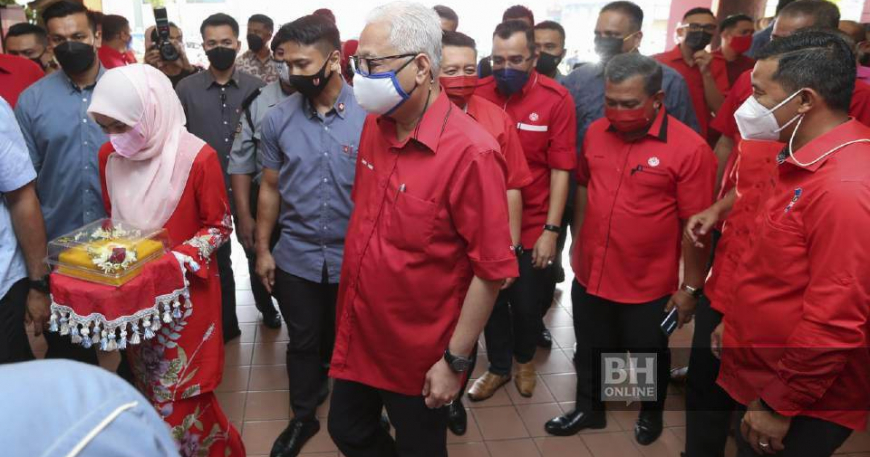 KOTA BHARU: Datuk Seri Ismail Sabri Yaakob berkata, mesyuarat Jawatankuasa Pengurusan Bencana Pusat akan membincangkan kemungkinan Agensi Pengurusan Bencana Negara (NADMA) perlu dilakukan penstrukturan semula bagi membolehkan punca kuasa ditambah pada peringkat negeri dan daerah.
Perdana Menteri berkata, ia berikutan struktur NADMA ketika ini hanya membabitkan peringkat pusat, dan tiada di negeri serta daerah.
"Kita akan membincangkan perkara itu. Mungkin perlu dilakukan penstrukturan semula supaya punca kuasa itu boleh ditambah.
"NADMA sekarang hanya sebagai penyelaras, namun di negeri masing-masing ada Jawatankuasa Pengurusan Bencana Negeri dan Daerah. NADMA hanya panggil untuk mesyuarat dan mungkin kuasa itu boleh dilihat semula," katanya.
Beliau berkata demikian pada sidang media selepas mengadakan perjumpaan khas bersama pemimpin Badan Perhubungan UMNO negeri, di sini, hari ini.
Mengulas lanjut, Ismail Sabri berkata, mesyuarat berkenaan antara lain akan membincangkan penyelesaian banjir untuk jangka panjang.
Beliau berkata, pihaknya akan mengkaji secara menyeluruh soal banjir kerana isu berkenaan sudah sekian lama berlarutan.
"Apa yang kita lakukan sekarang adalah seperti buat ad-hoc sahaja sejak dulu, sedangkan ia membabitkan perbelanjaan besar setiap kali banjir.
"Jika kita tidak mengambil langkah penyelesaian jangka panjang, kerajaan akan mengalami kerugian lebih besar. Tahun ini, Menteri Kewangan mengatakan kerajaan perlu mengeluarkan sejumlah RM6 bilion, tidak termasuk RM1.5 bilion bantuan terus kepada rakyat serta kerosakan infra.
"Sedangkan banyak perkara boleh dilakukan dengan jumlah berkenaan sebagai langkah pencegahan untuk masa depan. Justeru, kita akan bincang secara menyeluruh dari segi perancangan dan kos yang diperlukan," katanya.
Ismail Sabri berkata, kerajaan mungkin akan memfokus di satu atau dua tempat yang berisiko banjir setiap tahun, seperti Kuala Krai dan Rantau Panjang jika di Kelantan.
Beliau berkata, sekiranya ia membabitkan perbelanjaan yang besar, langkah penyelesaian itu mesti mengambil masa hingga 10 tahun.
KUALA LUMPUR: Lebih RM125.5 juta Bantuan Wang Ihsan (BWI) yang berjumlah RM1,000 kepada setiap penerima sudah disalurkan melalui Tabung Kumpulan Wang Amanah Bantuan Bencana Negara (KWABBN) kepada negeri yang terjejas banjir bagi tujuan pengagihan kepada ketua keluarga isi rumah yang terbabit bencana itu, hingga semalam.
Beliau berkata, hingga kelmarin, prestasi pengagihan bagi mangsa yang berpindah ke Pusat Pemindahan Sementara (PPS) adalah sebanyak 97.3 peratus daripada bilangan ketua isi rumah yang layak bagi gelombang pertama banjir di lapan negeri yang terjejas.
"Prestasi pengagihan bagi gelombang kedua adalah sebanyak 57.3 peratus meliputi Terengganu, Negeri Sembilan, Kelantan, Pahang, Sabah dan Johor," katanya.
Beliau berkata demikian ketika memberikan penerangan berhubung Bantuan Bencana Banjir pada Mesyuarat Khas Parlimen di Dewan Rakyat, hari ini.
KUALA LUMPUR - Kerja-kerja pembersihan sisa pascabanjir di enam negeri telah mencapai keseluruhan 98.17 peratus siap di bawah fasa pertama dan 100 peratus untuk fasa kedua melibatkan hanya dua negeri (Negeri Sembilan dan Melaka) setakat semalam.

Agensi Pengurusan Bencana Kebangsaan (Nadma) dalam kenyataan hari ini memaklumkan sebanyak 438 tan sisa banjir telah dibersihkan pada kedua-dua fasa pembersihan dengan menggunakan 112 jentera dan 354 pekerja.
"Fasa pertama kerja pembersihan pascabanjir di Johor telah mencapai 90 peratus dengan kawasan tumpuan pembersihan di daerah Segamat dan Muar, manakala di Pahang, kerja pembersihan kekal pada 99 peratus kerana berdasarkan rondaan hari ini masih terdapat sisa baharu dikeluarkan dari kawasan perumahan.

Sementara itu, menurut laporan Jabatan Mineral dan Geosains Malaysia (JMG), terdapat pertambahan empat kejadian tanah runtuh telah direkodkan iaitu masing-masing dua di Sabah dan Sarawak menjadikan jumlah keseluruhan kejadian tanah runtuh sepanjang monsun timur laut (MTL) 2021/2022 adalah sebanyak 280.
Kenyataan itu turut memaklumkan sebanyak 61.7 peratus Ketua Isi Rumah (KIR) terkesan dalam gelombang pertama dan 52.3 peratus terkesan dalam gelombang kedua, telah menerima bayaran Bantuan Wang Ihsan (BWI) membabitkan peruntukan sebanyak RM64,833,000.
- Bernama